10 October 2023
"Mental Health is a Universal Human Right"
At BUSY Health, our commitment to fostering mental wellbeing extends beyond the confines of our daily operations. It's integral to what we do and that's why we love taking part in events highlighting how important mental health is!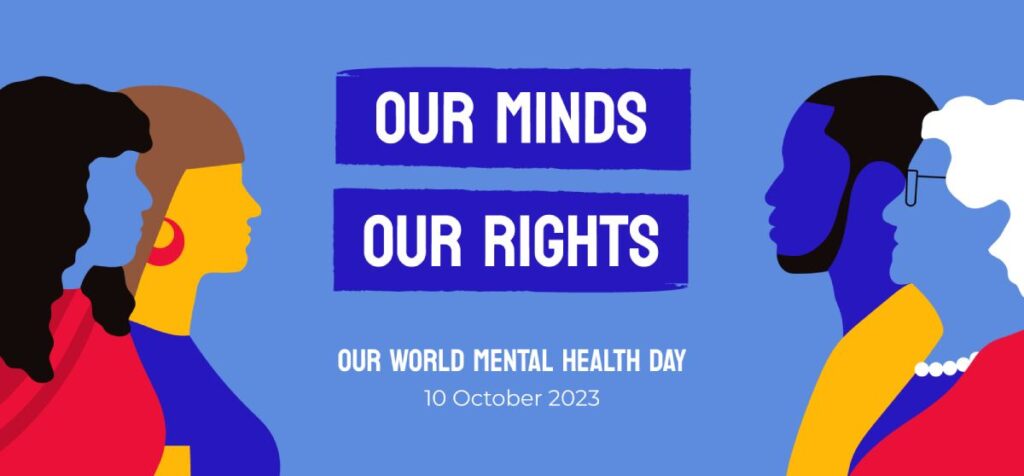 World Mental Health Day is especially meaningful for us. It's a chance to connect our mission with a bigger movement. Why? Because we believe everyone, no matter their background, deserves access to resources and support to achieve their best possible mental health.
Join BUSY Health as we contribute to World Mental Health Day, working to make a positive impact on people and communities.
What is a Human Right?
Human rights are rights that we all have just by virtue of being humans. No matter your age, sexuality, nationality, colour, ethnicity, origin of birth, language, religion, beliefs, or any other characteristics, a human right is universally applicable to peoples across cultures without distinction. Human rights start with the right to life, liberty and security, and extend to freedoms of thought, conscience and religion and even access to food, work and health.
It all started in 1948, with the Universal Declaration of Human Rights (UDHR) adopted by the United Nations shortly after its founding. The UDHR built upon the human rights legacy of the Magna Carta, internationally formalising an internationally accepted set of principles within its articles.
The UDHR contains 30 articles that are fundamental to human rights. The articles are often interconnected and are based on principles of dignity, equality and mutual respect, which are shared across cultures, religions and philosophies.
Mental Health and Human Rights
Amongst the UDHR's articles, Article 25 specifically states that "Everyone has the right to a standard of living adequate for the health and well-being of himself and of his family, including food, clothing, housing and medical care and necessary social services, and the right to security in the event of unemployment, sickness, disability, widowhood, old age or other lack of livelihood in circumstances beyond his control."
As such, the impact of poor mental health upon an individual or their family via unemployment, sickness, disability, difficulties with housing, lack of access to medical or social services or through other events beyond their control, is fundamentally an issue related to the basic human right to adequately access services for the health of one's self and family. Mental health is therefore inherently integral to the human rights outlined in Article 25.
Mental health, after all, is defined by the World Health Organisation as:

"a state of well-being in which every individual realizes his or her own potential, can cope with the normal stresses of life, can work productively and fruitfully, and is able to make a contribution to her or his community."
World Mental Health Day, 10 October 2023
This year's theme for World Mental Health Day is "Mental health is a universal human right". It invites us to think, reinforces to us that everybody should have the right to access adequate mental health care, and reminds us that the human rights, dignity and well-being of people with mental health conditions should always be respected.
The founders of World Mental Health Day, the World Federation for Mental Health, propose that every person with a mental health difficulty should have:
The right to be protected from known harms to mental health; a universal right which applies to the entire population, but especially the vulnerable including children, minorities and displaced peoples.
The right to access quality and affordable care when a person is struggling with their mental health.
The right to freedom and dignity, including the right of choice.
At BUSY Health, we believe in supporting individuals to overcome preventable barriers to good mental health, connection, employment, well-being, community participation and contribution, and access to services that allow an individual to live with dignity and reach their potential.
Our qualified health practitioners work every day with to assist individuals with improving their mental health across conditions like:
Depression symptoms
Anxiety and worrying symptoms
Stress
Anger
Phobias
Substance misuse and dependence
Weight gain and physical fitness issues
Difficulties with communication
Difficulties with organisation and goal attainment
If you'd like to talk to someone about improving your mental health, hitting your goals or reaching your potential, BUSY Health is here to help you enhance your health, your way.
Call BUSY Health on 1800 181 383 to discuss how we can help you with your mental health.
Article contributed by BUSY Health Counsellor Alyne Tavares.
References
World Federation for Mental Health (wfmh.global)

Health Direct (2021). Nine signs of mental illness. https://www.healthdirect.gov.au/nine-signs-of-mental-illness-infographic

Kingston, R. E. F., Marel, C., Mills, K. L. (2017). A systematic review of the prevalence of comorbid mental health disorders in people presenting for substance use treatment in Australia. Drug and Alcohol Review. 36(4) 527-539. doi:10.111/dar.12448

Mihalopoulos, C., Engel, L., Le L. K-D., Magnus, A., Harris, M., Chatterton, M. (2018). Health state utility values of high prevalence mental disorder in Australia: results from the National Survey of Mental Health and Wellbeing. Quality of Life Research 27(7) 1815-1825. doi: 10.1007/s11136-018-1843-2