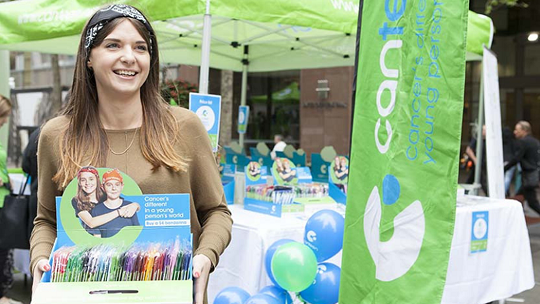 Every year, another 23,000 young people in Australia have to face the challenge of cancer.
21,000 find out their parent has cancer
1,000 are diagnosed with cancer
1,000 find out their brother or sister has cancer
These young people are up to six times more likely to experience high or very high levels of psychological distress than their peers. Without support, high levels of psychological distress can lead to difficulties at school or university, along with problematic and unhealthy coping strategies such as drug or alcohol abuse, as well as depression and anxiety. Many young people affected by cancer feel very alone and become disconnected from their friends, which can lead to social isolation and an increased risk of mental health issues.
Bandanna Day is a national event held each year by Canteen to raise funds in efforts to help these young people impacted by cancer. Funds raised on this day and by this organisation go towards initiatives that Canteen supply to help this vulnerable population, such as:
Counselling and individual support

Canteen counsellors and psychologists are specially trained to understand the challenges cancer brings. Young people can share thoughts or feelings that other people in their lives might not be able to relate to.

Peer support

Life can feel pretty lonely when you're trying to deal with cancer. Through Canteen, young people can meet other young people living with cancer who really get what they're going through.

Canteen Connect

An online community available 24/7 where young people impacted by cancer can connect with others in in a similar situation, check out events online and around the country, and also chat to a counsellor.

Youth Cancer Services

Youth Cancer Services provide world-leading, specialist, age-appropriate treatment and support for young cancer patients aged 15-25. Around 70% of all newly diagnosed young cancer patients are supported by Youth Cancer Services.
At BUSY Health, we support people from all walks of life and with all different barriers in life. With organisations such as Canteen, we as professionals have a safe place to refer individuals in need of specialist support regarding the impacts of cancer. We value and are grateful that there are great organisations in the community for people to access specialised support and hope that many more follow in these footsteps.
To find out more information on how you can get involved and support these initiatives please visit Help Canteen Support Young Cancer Patients | Bandanna Day for more information.
Article contributed by BUSY Health counsellor, Harrison Cochrane, BBSc, MCouns, MACA.